Sandy Kurtzig
Founder
Chairman, CEO
Kenandy

Some enterprises are slow to transition IT teams to the cloud to focus on driving innovation and meet requirements for long-term growth. This article discusses the wide effects of enterprises not challenging their status quo.

Read the Story

Mike Shanker
CEO, Co-Founder
QuickPivot

The promise of Big Data in marketing may hold the key to the new cross-channels rules of personalization. Here's what today's marketers need to be able to do with their Big Data to market at the speed of the customer — across digital, social and mobile channels, at the right time.

Read the Story

Jeffrey M. Kaplan
Managing Director
THINKstrategies

The recent Connected Cloud Summit clearly showed that the Internet of Things market, although still embryonic, is evolving rapidly and that the cloud is propelling its accelerating growth. Here are the highlights, including the PaaS, IaaS and SaaS companies growing the market.

Read the Story

Deepak Agarwal
Founder and CEO
NoMoreRack

The popularity of online shopping has disrupted the already fierce competition among retailers. Many Internet startups have challenged the status quo of more established chain stores and big-box retailers. Here is a brief description of primary e-commerce business models and their market implications.

Read the Story
Don't Miss These Four New Executive Briefings
Data Consolidation and Multi-Tenancy in Financial Services
This industry brief discusses three critical facets IT teams within financial services firms need to address when data and workload mix accommodate a multi-tenant environment.
Download the briefing.
Full-Fidelity Analytics and Regulatory Compliance in Financial Services
In this paper, you'll learn about three financial services business cases tied to federal regulations that have historically required dedicated and specialized technology for compliance.
Download the briefing.
The Enterprise Data Hub in Financial Services: Three Customer Case Studies
How can financial services firms address Big Data challenges with an enterprise data hub built on Apache Hadoop? Here are three customer case studies.
Download the briefing.
Three Factors Entrenching Big Data in Financial Services
This paper discusses three factors entrenching Big Data within financial services and the benefits of an enterprise data hub built on Apache Hadoop.
Download the briefing.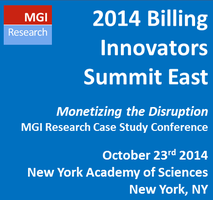 SandHill is proud to be a sponsor of this MGI Research event, taking place in New York on October 23. Use promo code Sandhill-BillingSummit15 for a 15% discount on tickets.
The focus of the summit is how modern approaches to billing can promote innovation, agility and accelerate time to market. As the only independently organized conference solely focused on billing solutions, this event will deliver high quality, actionable insights to help business and IT executives understand the risks, rewards and opportunities associated with billing projects today, and to help identify the market leading solutions that are available.
Topics will include:
Key billing solution requirements for enabling subscription, consumption and hybrid business models
Best practices for implementing agile billing today
Best practices for evaluating and selecting a billing solution
How cloud-billing solutions will impact on-premise billing and CSP solutions
Insights into key topics like metering, revenue recognition, and monetization strategies
Click here to register for the Billing Innovators Summit.
This Week's Sponsor:
SafeNet
SafeNet has more than 25 years of experience in delivering innovative and reliable software licensing and entitlement management solutions to software publishers, technology vendors, and cloud service providers worldwide. Easy to integrate and use, innovative, and feature-focused, the company's family of Sentinel Software Monetization Solutions are designed to meet the unique license enablement, enforcement, and management requirements of any organization, regardless of size, technical requirements, or organizational structure. Only with SafeNet are clients able to address each and every aspect of the software monetization lifecycle – from copy and intellectual property protection to product catalog management and ongoing end-user experience improvement.