John Dillon
CEO
Engine Yard

Painful memories of the dot-com bubble and bust linger, despite it happening more than 14 years ago. Are investors dooming themselves to repeat history with their exuberance for the cloud market? How can we keep the bubble from overinflating?

Read the Story

Lindsay Junck
Associate Attorney
Lotus Law Center

Ideas aren't protected by copyright, but the tangible expression of those ideas is subject to copyright. To the extent they contain creative original expressions, portions of computer programs are copyrightable. The recent Oracle v Google suit found that a source code category might also be protected.

Read the Story

Andrew Dailey
Managing Director
MGI Research

MGI Research recently conducted the State of Mobile Apps industry study focused on mobile app development, including the time, cost and skills it takes to develop a mobile app. This article highlights survey data focused on time frames and budgets and provides recommendations for users and vendors.

Read the Story

Sam Liu
Vice President of Marketing
Soonr

Many file-sharing solutions require recipients to register as a new user of the service and download an additional external application. Making shared files available for recipients regardless of whether they are a registered user of that service or not improves four business functions.

Read the Story

Dennis Amorosano
VP, Marketing & Professional Services
Business Imaging Solutions Group
Canon U.S.A.

Deciding which document workflow technologies to implement and ensuring their effectiveness is a daunting task. A recent study found executives often don't know of their company's IT investments, thus compromising the value and ROI.

Read the Story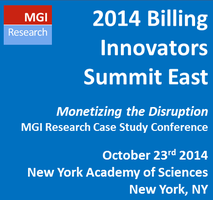 SandHill is proud to be a sponsor of this MGI Research event, taking place in New York on October 23. Use promo code Sandhill-BillingSummit15 for a 15% discount on tickets.
The focus of the summit is how modern approaches to billing can promote innovation, agility and accelerate time to market. As the only independently organized conference solely focused on billing solutions, this event will deliver high quality, actionable insights to help business and IT executives understand the risks, rewards and opportunities associated with billing projects today, and to help identify the market leading solutions that are available.
Topics will include:
Key billing solution requirements for enabling subscription, consumption and hybrid business models
Best practices for implementing agile billing today
Best practices for evaluating and selecting a billing solution
How cloud-billing solutions will impact on-premise billing and CSP solutions
Insights into key topics like metering, revenue recognition, and monetization strategies
Click here to register for the Billing Innovators Summit.
The Connected Cloud Summit executive forum, focused on unprecedented market opportunities and key technology challenges associated with the "Internet of Things" (I0T), will be held September 18 in Boston. A limited number of seats remain. Register now to save your seat and get $200 off with promo code CCSIoT14!
This Week's Sponsor:
Intacct
Intacct is the cloud financial management company. Bringing cloud computing to finance and accounting, Intacct's award-winning applications are the preferred financial applications for AICPA business solutions. Intacct applications, in use by more than 7,300 organizations from startups to public companies, are designed to improve company performance and make finance more productive. Hundreds of leading CPA firms and Value Added Resellers offer Intacct to their clients. The Intacct system includes accounting, contract management, revenue management, project and fund accounting, inventory management, purchasing, vendor management, financial consolidation and financial reporting applications, all delivered over the Internet via cloud computing. Intacct is headquartered in San Jose, California. For more information, please visit www.intacct.com or call 877-437-7765. Connect with Intacct on LinkedIn, Facebook, Twitter or YouTube.